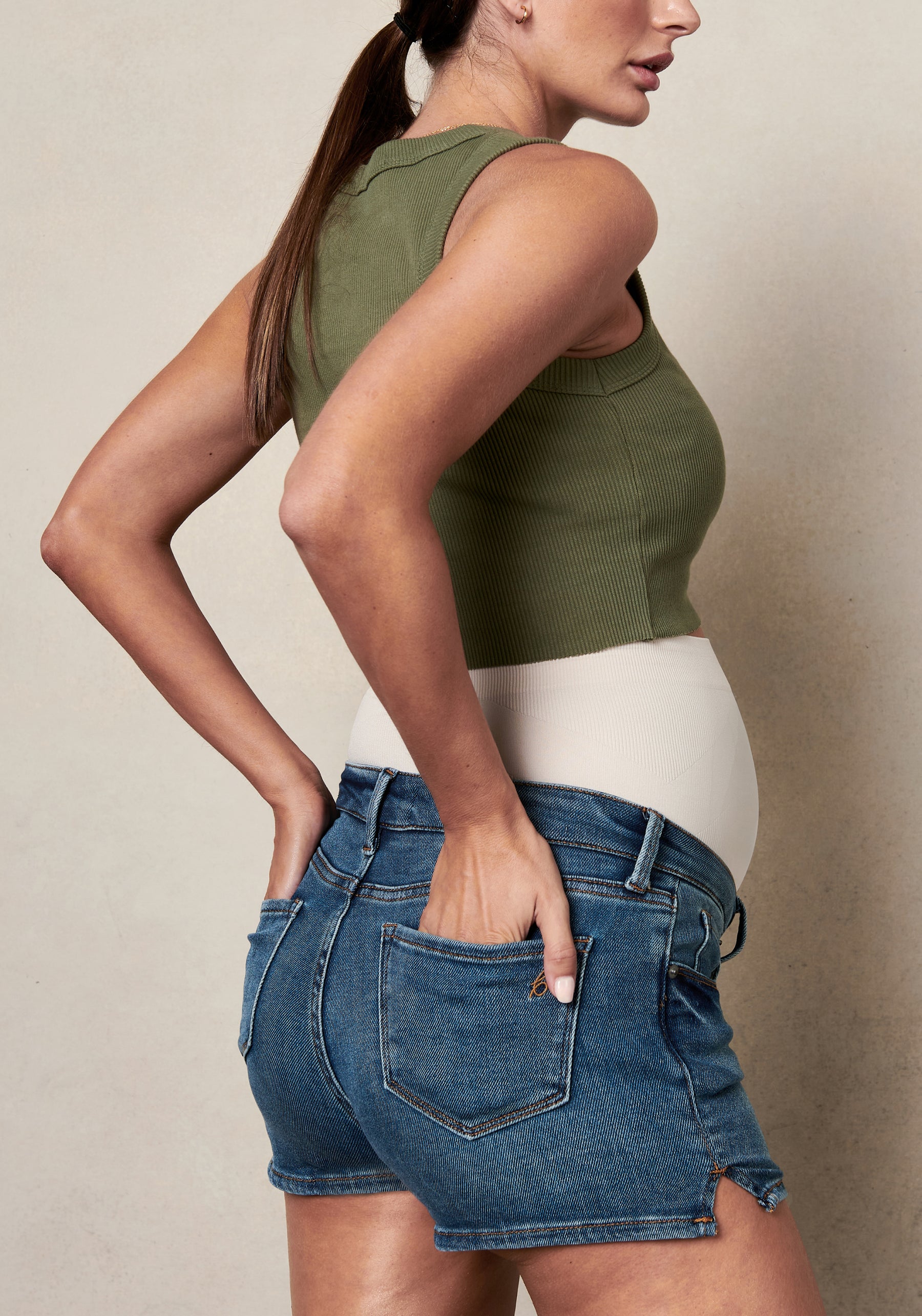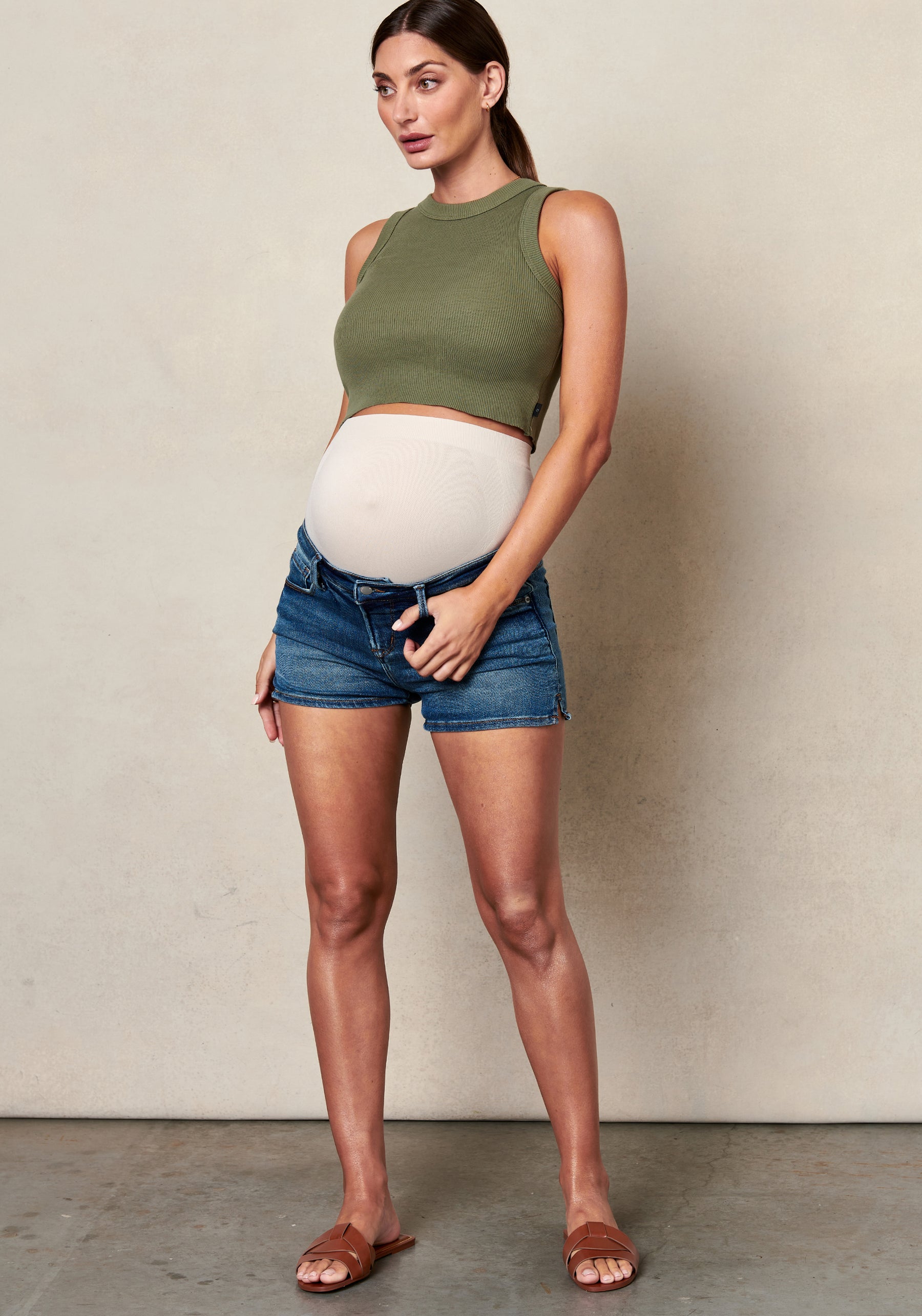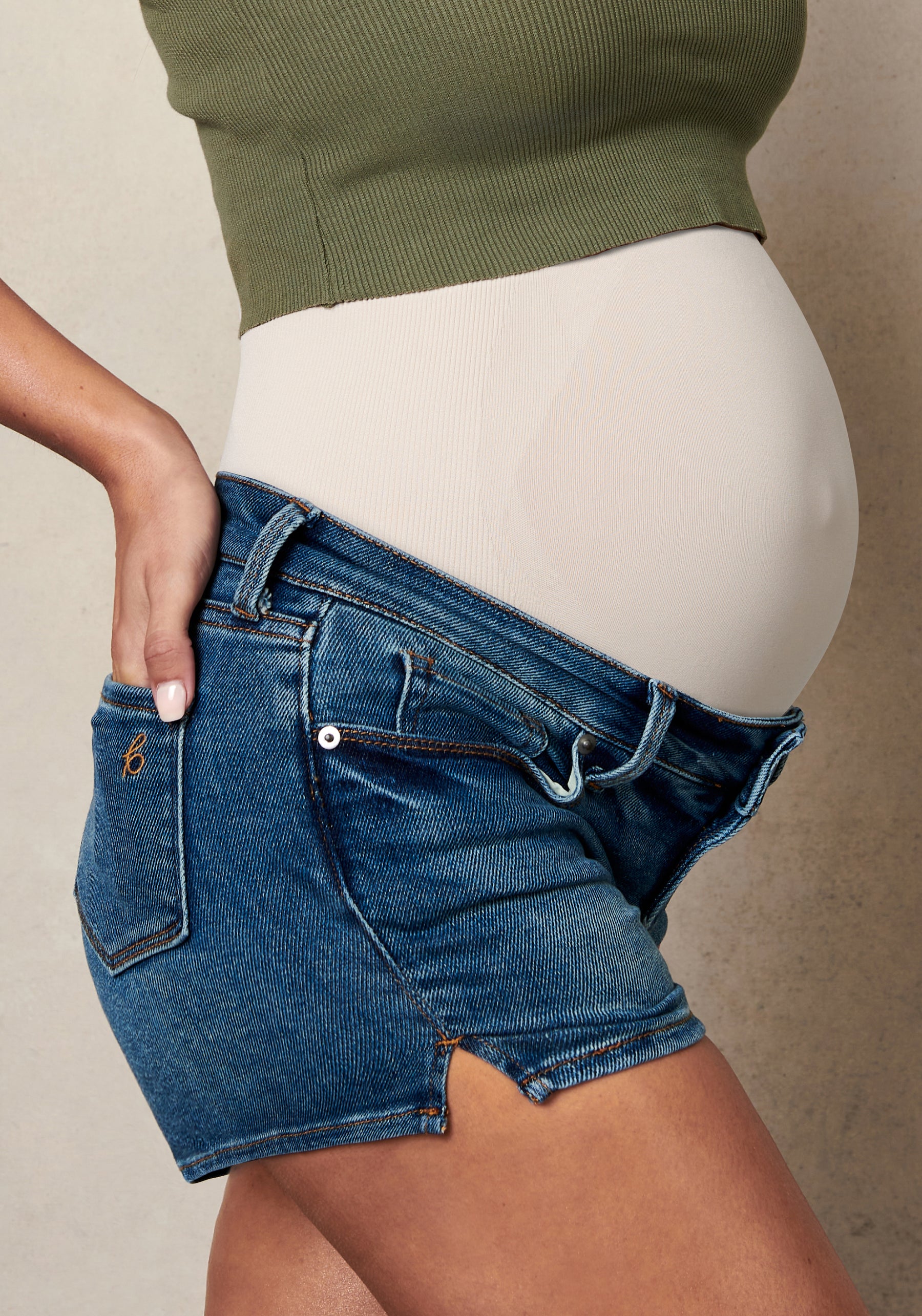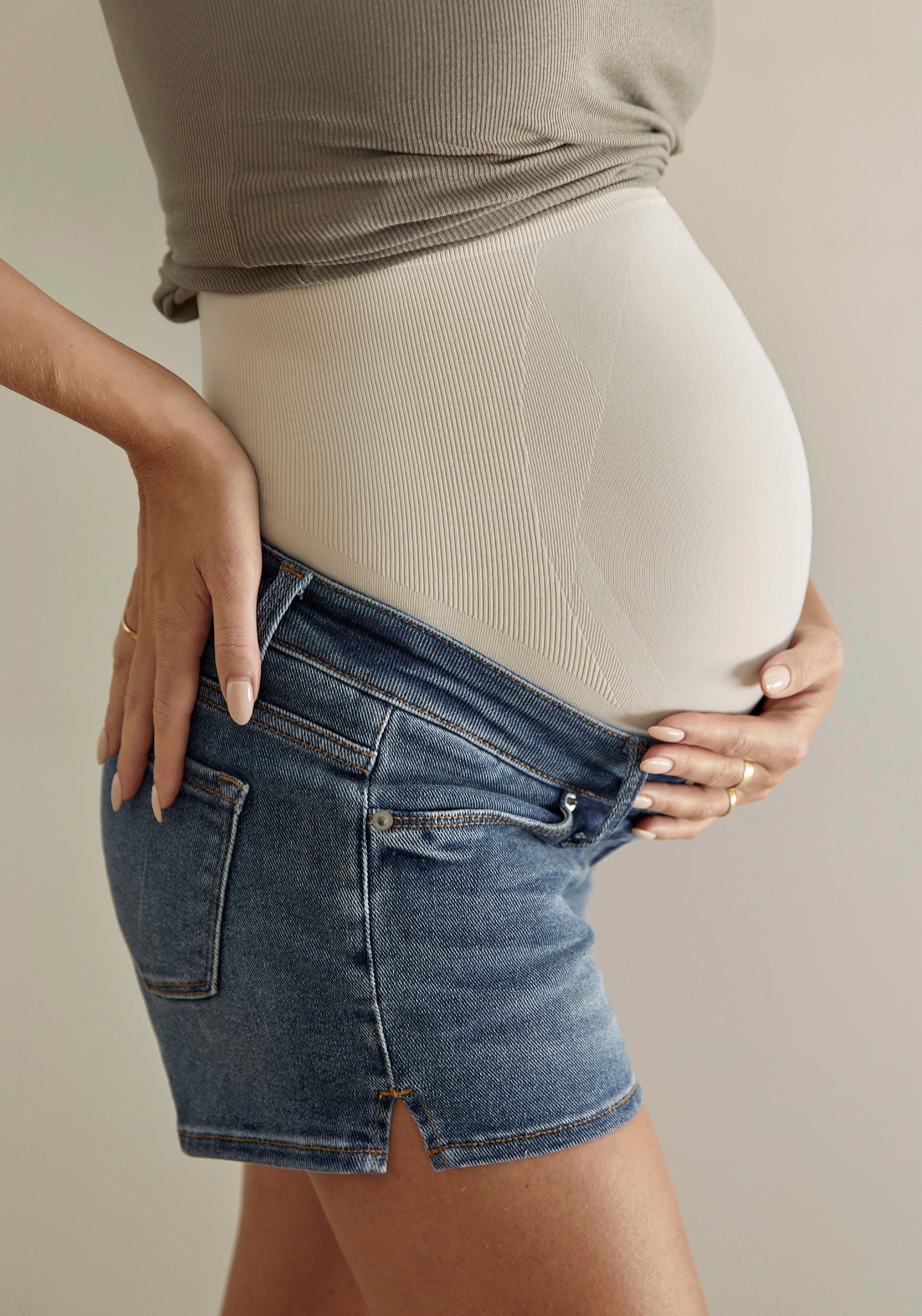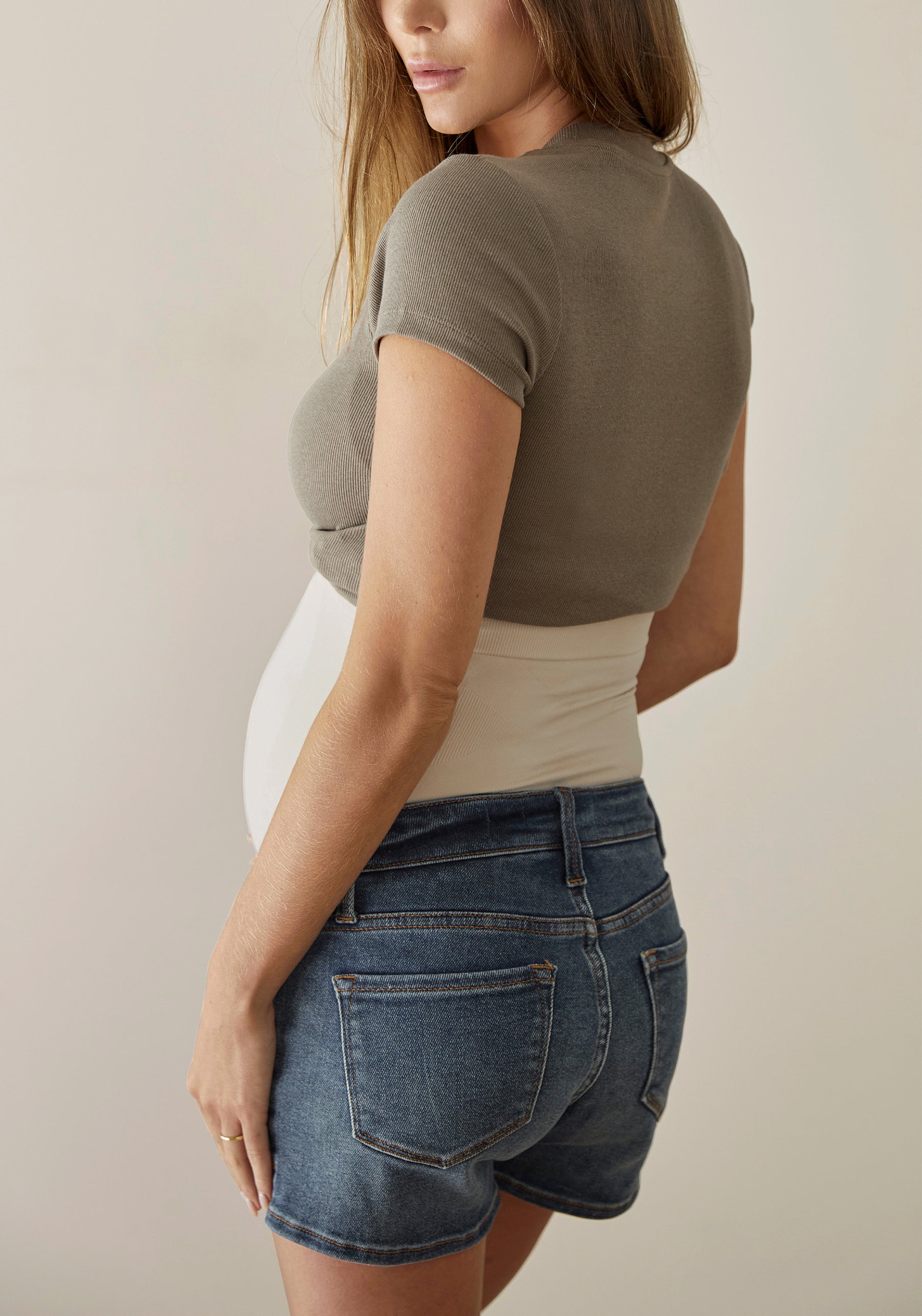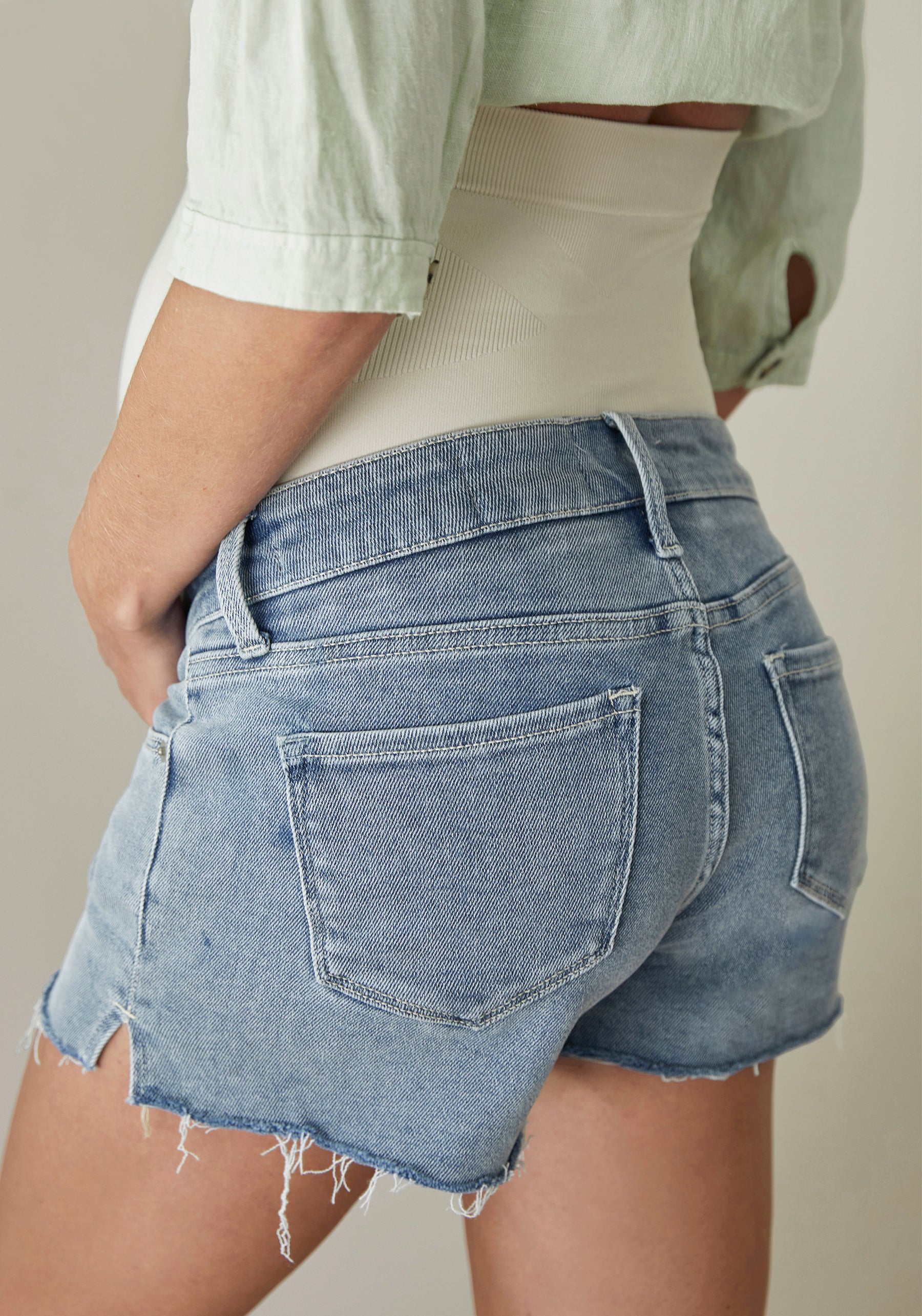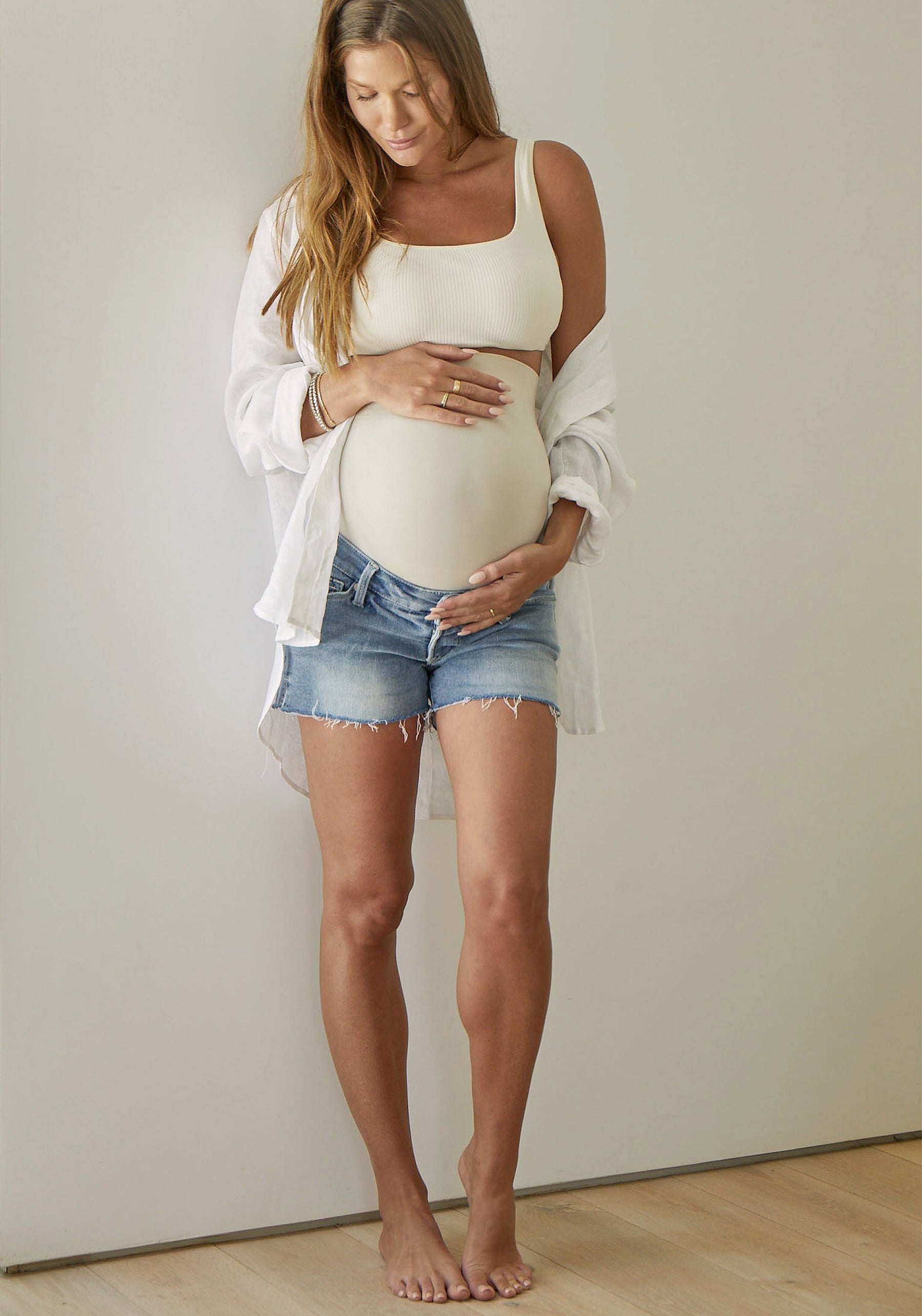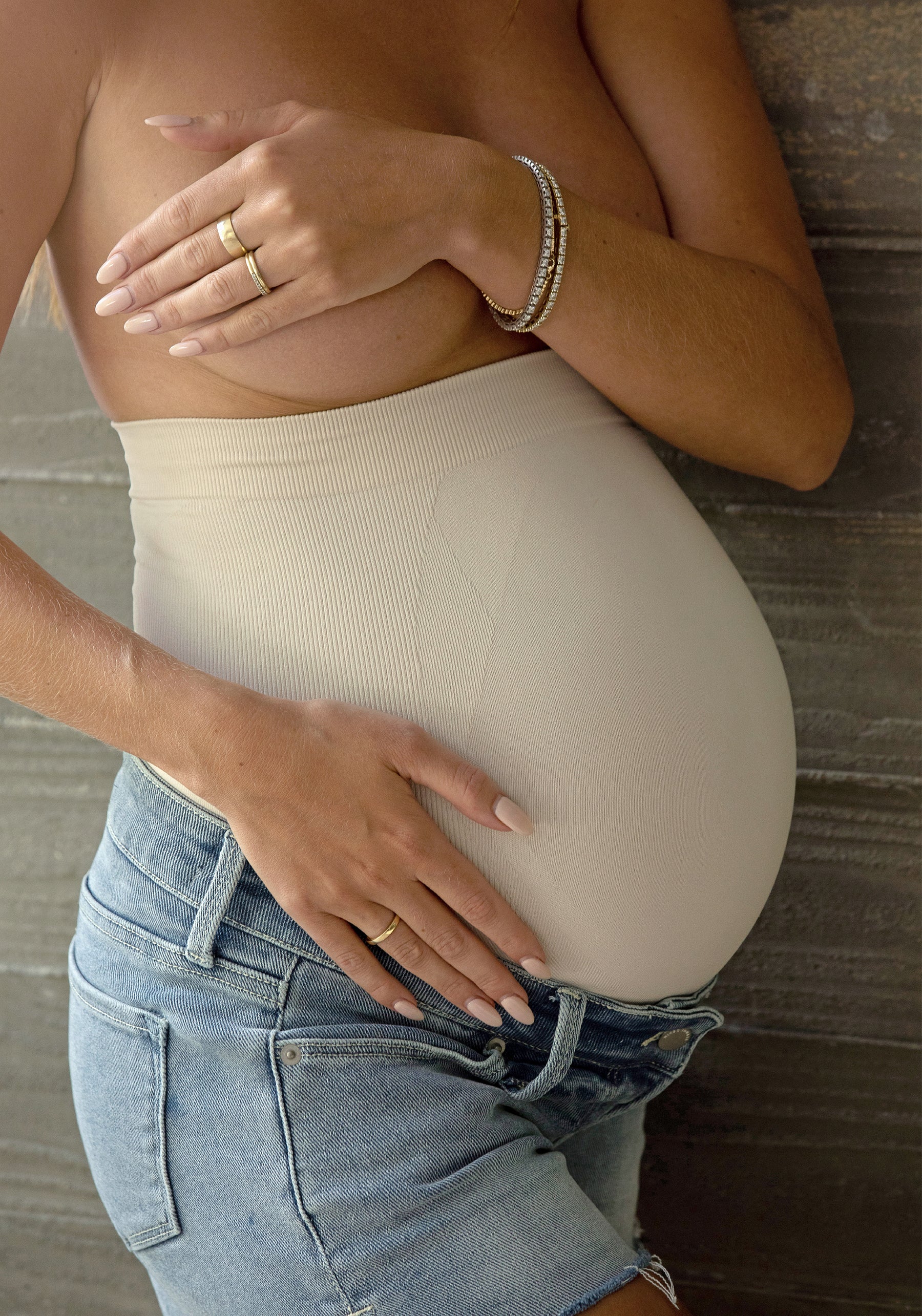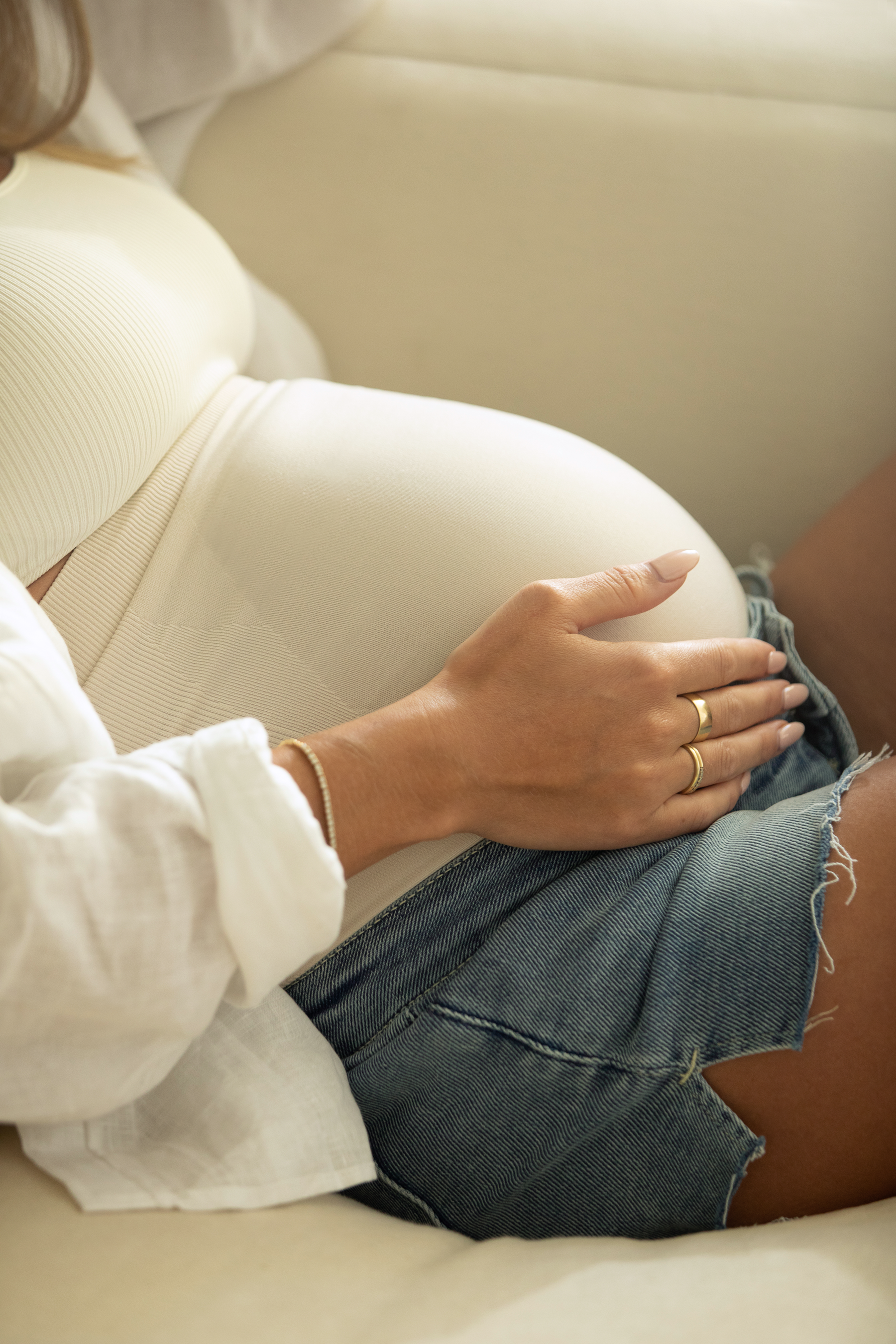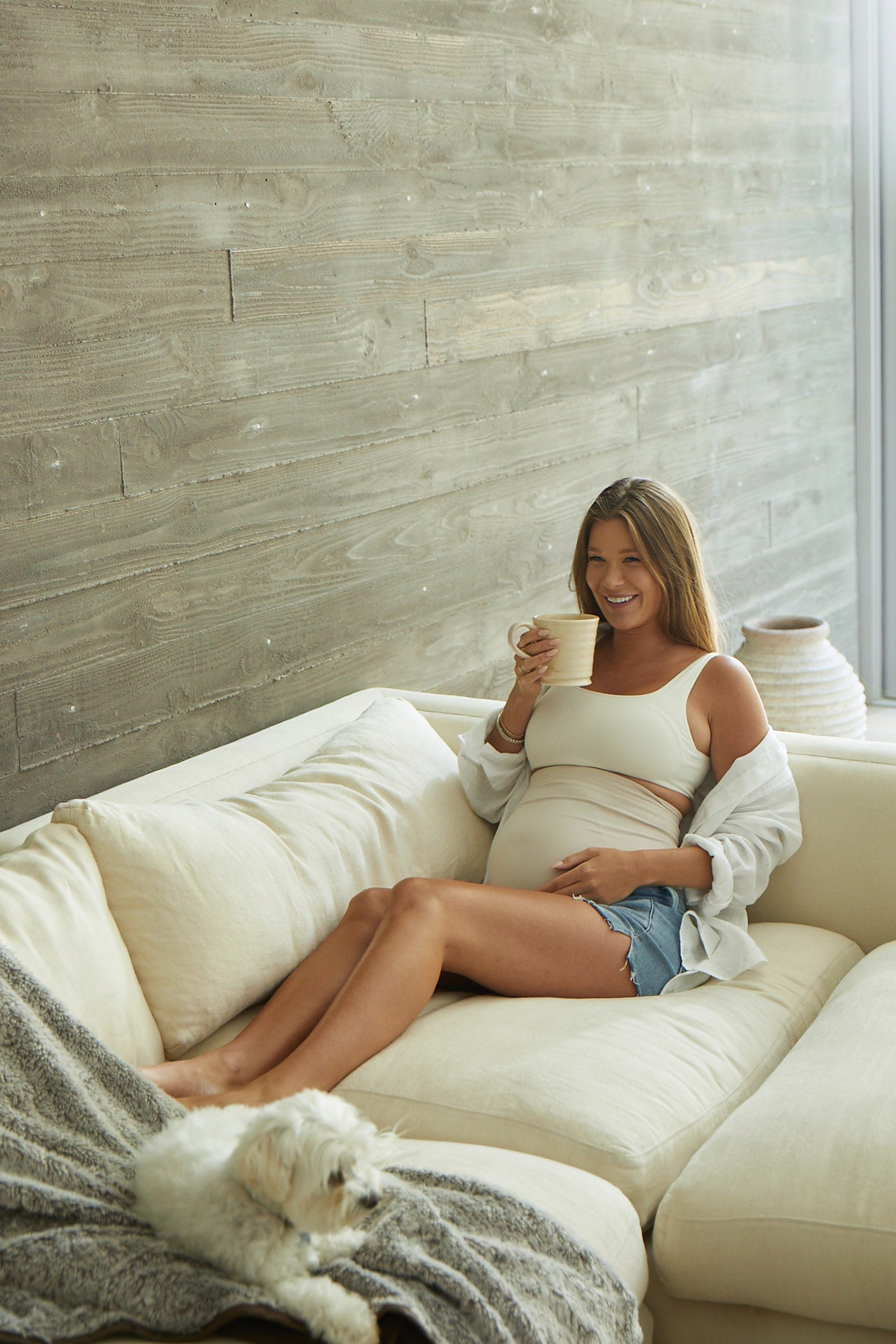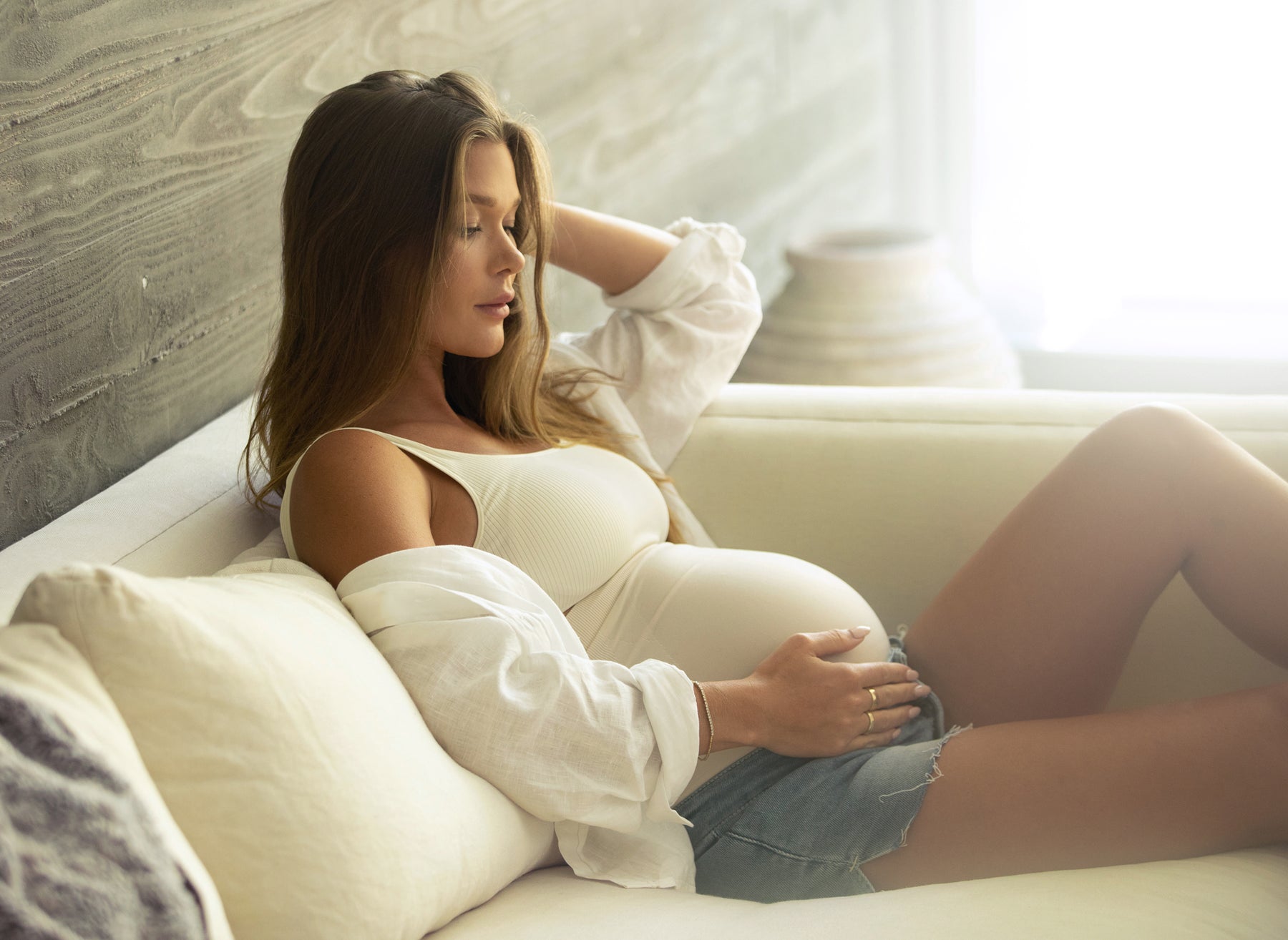 BLANQI DENIM
Maternity Belly Support Jeans Shorts
Versatile, breathable and super soft, these denim shorts are made for every day. Delivering the ultimate in comfortable style with a waistband that won't dig in and cotton-rich comfort-stretch fabric that doesn't bag out after washing, you won't want to take them off. Looking like classic denim shorts to the naked eye, they have a hidden built-in belly band that grows with you to offer targeted support, alleviating heaviness and pressure on your pelvic floor. Made from premium yarn that draws sweat away from your skin, the seamless belly band is attached on the inside so you can still tuck in your favorite tee. These buttery-soft pull-on shorts feel like a dream and are a go-to at every stage of pregnancy. 
Core Color:
Light Stonewash
SIZE GUIDE
Swipe right for full table
DENIM, DECODED.
As a general rule, we recommend ordering your pre-pregnancy jean size. Not sure? Measure your hips at their widest point and use the below chart to find your size.
PRE-PREGNANCY SIZE
| | | | | | | | | |
| --- | --- | --- | --- | --- | --- | --- | --- | --- |
| BLANQI Size: | 0 | 2 | 4 | 6 | 8 | 10 | 12 | 14 |
| Denim Size: | 25 | 26 | 27 | 28 | 29 | 30 | 31 | 32 |
| Hip: | 33-36 | 37-38 | 38-39 | 39-40 | 40-41 | 41-42 | 42-43 | 43-44 |
HELPFUL MATERNITY DENIM TIPS:
Carrying low? We advise sizing up one size for ultimate comfort. In your first trimester? We suggest sizing up one size to accommodate your belly till D-day.
HELPFUL POSTPARTUM DENIM TIPS:
Did you gain the recommended 25-30 pounds? Go ahead and select your pre-pregnancy size. Did you deliver multiples or gain more than 35 pounds? We suggest sizing up one size.
KEY BELLY PANEL FEATURES:
Stability and support: Our seamless band effortlessly lifts and supports growing belly bumps, while keeping your maternity denim in place (read: no pesking pulling or readjusting everytime you sit or stand). Our seamless band gently compresses recovering postpartum tummies and stabilizes the lower back - a must for any recovering mama!
Sweat Wicking Breathability: Our seamless belly bands are knit with technical yarns that keep sweatiness at bay. Stay cool and dry in your maternity or postpartum jeans. Win!
HOW TO PUT ON:
Unfasten button.
Scrunch the seamless support band down into the denim waistband.
Slide over your hips by holding the denim waistband, don't pull up by the hidden support band, it may tear.
For Maternity Denim, pull support band fully over your bump until it rests just below bra line.
For Postpartum Denim, pull support band up over your abdomen until it rests at mid-waist.
Fasten button and give yourself a mental high five. Ridiculously comfy jeans with secret support band never looked this good.
KEY FIT FEATURES:
Inseam measures 28" for all sizes
Functional front flat stretch miracle pocketing for a smooth fit
Functional back pockets
Pull-on design with funtional shank button
Fits true to size with ample stretch and softness
Kahara is wearing a size 6 (40.5" hip)
Tova is wearing a size 2 (34" hip)
CARE & FABRIC:
Cold machine wash inside out with like colors. Tumble dry low heat. Line dry preferred. Do not add fabric softener.
Indigo Fabric: 87% Cotton / 12% Polyester / 1% Spandex

Spandex (pull on stretch that doesn't bag out after wear or washing, retains its shape while smoothing your legs)
Polyester (wicking performance, protects against soiling allowing to wash less frequently)
Cotton (Cotton rich, gives a vintage Levi's appearance)
Shipping
Domestic Shipping
We ship via USPS to all 50 states, Washington, D.C., U.S. P.O. Boxes, U.S. territories, and APO/FPO/DPO addresses.
Please note APO/FPO/DPO shipments can take 4-6 weeks to arrive.
We are unable to ship to P.O. Boxes via FedEx 2-Day at this time. To expedite an order, please contact our customer care department at 1 (877) 378-6485 or customercare@blanqi.com.
The shipping methods offered during checkout may differ based on your shipping address and items selected.
Free shipping is currently available for purchases over $125.00.
| SHIPPING METHOD | SHIPPING & HANDLING RATES | ORDER PLACED | ORDER DELIVERED |
| --- | --- | --- | --- |
| USPS Standard | $9.95 | Order processed same day if placed before 2pm EST Monday - Friday | 3-10 business days |
| FedEx 2-Day | $19.95 | Order processed same day if placed before 1pm EST Monday - Friday | 2 business days |
International Shipping
We're excited to offer flat-rate shipping and handling to our international destinations via DHL Worldwide Express. For information on delivery times, please refer to the table below. Pricing will be provided at checkout.
Please note that delivery times go into effect the business day after you place an order.
CANADA
| SHIPPING & HANDLING RATES | DUTIES & TAXES | ORDER PLACED | ORDER DELIVERED |
| --- | --- | --- | --- |
| $14.95 USD | Duties and taxes to be paid by purchaser upon arrival | Order processed same day if placed before 2pm EST Monday - Friday | 1-2 weeks |

AUSTRALIA
Effective July 1 st, 2019, we are required by the Australian Taxing Office to charge a 10% GT (Goods and Services tax) on all products imported by consumers into Australia.
| SHIPPING & HANDLING RATES | DUTIES & TAXES | ORDER PLACED | ORDER DELIVERED |
| --- | --- | --- | --- |
| $16.95 USD | Applicable duties and taxes apply | Order processed same day if placed before 2pm EST Monday - Friday | 3-4 weeks |

EUROPEAN UNION
| SHIPPING & HANDLING RATES | DUTIES & TAXES | ORDER PLACED | ORDER DELIVERED |
| --- | --- | --- | --- |
| $14.95 USD | All orders subject to 20% VAT tax | Order processed same day if placed before 2pm EST Monday - Friday | 10-16 business days |

Order Status
As soon as your order is placed, you will receive an order confirmation email. During heavy sales times, please allow up to three (3) business days for order processing.
A shipping confirmation email with tracking information will be sent once the package has left our facility.
Track Your Order
You may track your order by clicking the link in your shipping confirmation email.
The tracking number has the most recent shipping information. If your package has not arrived within the specified transit time, feel free to contact us at 1 (877) 378-6486 or customercare@blanqi.com.
Change or Cancel Order
You fell in love, placed your order and suddenly realized that you ordered the wrong thing. It happens, we've been there. No need to panic, reach out to us immediately and we will help you with a return if necessary.
Returns
International Returns & Exchanges
Please reach out to our customer care team at customer.care@blanqi.com for assistance if you need an exchange or return.
US Returns & Exchanges
Returns must meet the following criteria:
Items must be returned within 30 days from purchase date
Items must be in original condition, not worn and not washed.
Final sale items cannot be refunded, but they may be processed as an exchange for a different size.
A return shipping fee of $6.00 is non-refundable.
Returns From Outside Retailers
Unfortunately, we cannot accept returns for items purchased from other retailers or websites. Please reach out to place of purchase for their return policy.
Return Process:
Please click this link to initiate a return for a refund or an exchange:
Once your return is authorized, you will receive step-by-step instructions and a shipping label via email.
Refunds
Need to return for a refund?
Choose the reason for a return, then follow the on-screen instructions. You will be able to download a return shipping label to return your item. Once your return is received in the warehouse, the refund will be processed. Your return label is active for 30 days.
How soon will I get my refund?
Generally, 2-5 business days after product has been received by warehouse.
Exchanges
Need a different size or color?
You can select a new item in exchange for the item you are returning, then follow the on-screen instructions. We'll ship your new item right away. Just send in the item to be returned using our shipping label.
Need a new style?
Click through the return process and request a refund, you will receive an instant refund voucher. Should you decide to use it, you can purchase something new right away. Choose not to use it, and receive your full refund back to the original method of payment once your return is received.

support

shorts
CLEVER DENIM SHORTS WITH BONUS BUMP SUPPORT
EASY PULL - ON FIT
HIDDEN BELLY SUPPORT BAND
ZIPPERLESS FLY
EARTH FRIENDLY
SUPER STRETCH DENIM
FROM THE FOUNDERS
"A summer style staple with sneaky support built in? Yes please! You'll want to live in those shorts and for good reason. The moisture-wicking, super-supportive belly band is the hot-weather hack you've been dreaming of."