Oh, the looks you can create!  Before BLANQI, 'maternity support' was something that sounded a little creepy, looked even scarier (think Velcro and plastic), and was often only suggested to high-risk pregnant women as an option. But WE needed the help with the aches and pains of pregnancy. What we wanted was something that could smooth and secure the added weight gain in a way that was wearable, could be worn out in public, supported the belly so our backs and belly stopped aching from the added weight, and versatile enough that we didn't have to invest in a huge new maternity wardrobe that we would only wear for 9 months. So we created what has become our signature Bodystyler® Belly Support line - As it turns out, we were not the only pregnant gals craving some extra support.  Check out these amazingly adorable, fashionable BLANQI girls and the ways they wear their
BLANQI maternity support tank
.
Irina Bond of
Bond Girl Glam
 on her maternity must-have:  "The
Blanqi Support Tanks
are my saving grace; I have one in black and in white. I always reach for them over any other maternity tank I own, because frankly,
they make me look and feel good
. They're made out of one seamless piece of fabric, and the support ribbing is pretty high-tech. It gently helps support your back and bump as you grow."
Emily of Zee + Three (when pregnant with triplets):  "I lived in
Blanqi
gear my entire pregnancy!"
Gaelyn of
My Corner View
:  "As a petite lady, I was never able to make a belly band work. Sure they would cover the fact that my pants were unbuttoned or unzipped but they did absolutely nothing to keep my pants up! I'm 29 weeks at this point and thanks to the Blanqi tank, I only recently had to break out some of my maternity jeans. This gives me so much more flexibility with my wardrobe and best of all keeps me feeling like my sassy self, not a frumpy pregnant lady."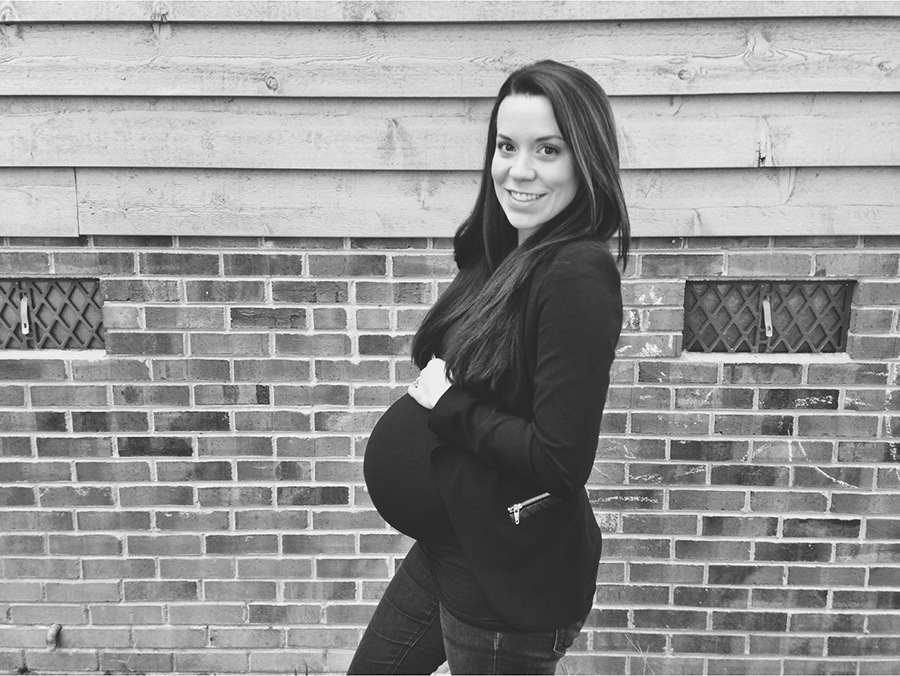 Natalie of
At Home with Natalie
:  "I wore my size medium throughout my pregnancy.  It's amazing the support it gives your bump and how it helps smooth you out.  Now that I'm at the end of my pregnancy, sometimes I just  wear this and pajama pants around the house lol. It's a must have for your pregnancy wardrobe."
Gaelyn Jenkins
Kilee of
One Little Momma
 (and cofounder of
@nickelandsuede
(check out their lightweight leather earrings- perfect for us gals holding babies with grabby hands) looking our kinda cool while wearing her BLANQI Bodystyler Belly Support Tanktop in Winter White.    
Brenda of  
www.brendabirddesigns.com
– and store –
From Me With Love
:  "…just as the countdown number is decreasing, my discomfort with a plump belly, flattened bladder and insomnia filled days/nights are only increasing….What helps you ask? Not much takes all that mumbo jumbo away, but Benadryl helps a bit with insomnia and this
tank
from
Blanqi
alleviates most of that lower back and lower abdominal discomfort."
Carmen of
Carmen 
The Modern Mom
:  "Very excited to be using Blanqi this pregnancy!!"
Kilee of 
ONE little MOMMA
 on wearing dresses during pregnancy:  "The one secret that I have learned is a must with a fitted dress while you are or aren't pregnant is that wearing a shaping tank or slip underneath is essential.  
Once I started wearing a BLANQI tank under my dresses, I felt some much more confident in them. It just smooths everything out and hides the lines of my undergarments. I'm considering buying a second one because they are also great to wear under fitted tees."
Image: Kilee / One Little Momma
Ananda of
Super Fashionable
:  My black maternity top is from Blanqi and it has honestly been such a life saver during my pregnancy and especially towards the end of it.   This top is stretchy in all the right places and it's just long enough so I can wear it with leggings or jeans without showing my belly and still feeling comfortable – because trust me, those awesome tops you love now won't cover your entire belly after a while.
Laura of
A Little Bit of Lacquer
:  "I've been loving this BLANQI support tank the last few weeks! I paired it with real maternity pants here, but usually I wear it with my non-maternity jeans unbuttoned - it holds them up better than the belly bands I was using earlier in the pregnancy! It also lifts up my belly (which is such a relief when I'm walking as baby girl has this belly hanging lower and lower each day). On top of all that, it wraps under my bra letting me wear whatever cut shirt I want and giving the girls an extra lift! Bonus: N thinks it's sexy. I can't say the same for the belly bands hahaha! I'm in love and truly think this tank has made these last few weeks a little bit easier. "
Irina of
Bond Girl Glam
definitely puts the glam in maternity.  She pairs her BLANQI support tank with denim and snake print, and tops it off with a neutral vest and bag.  She's one fashionable mama!
Our BLANQI gal from Tuesday Wise goes a little bit country, a little bit rock n roll, with a touch of bohemian - baby bump supported by her BLANQI
underbust support tank
in deepest black.
Our beautiful and super talented friend Anna of
In Honor of Design 
and her sweet little one showing off how to do the mom-and-me style the right way!  Love the monochromatic look she creates with graphics and stripes.  She layers her look with the BLANQI
underbust support tank
in deepest black.  For more maternity style, be sure to check out her amazing blog - you'll find yourself reading the whole thing! ;)
Sarah Sweeney
layers her BLANQI
underbust support tank
in pale nude with our Motherhood is My Muse tee.
Last but not least, Carmen of 
Carmen 
The Modern Mom
 pairs her tank with a full skirt and denim.  Carmen pulls of pregnancy chic like no other!  Love the BLANQI underbust tank paired with a full skirt and denim - this is what fashion with function is supposed to look like.  No more hiding, no more covering up your bulky support!  
xx Sabina & Valerie